Rockwell Land makes Makati truly premium
Posted on Friday, May 24th, 2019
It could well be one of the main reasons why Makati continues to command a premium.
Just a few kilometers outside the Makati central business district is the 15.5-ha Rockwell Center, a highly exclusive, upscale community known for having created that distinct signature lifestyle and spaces that are now sought by many of the country's most affluent.
What creates that distinction is the fact that its shopping mall, dining areas, and more importantly its residential towers have remained just as sophisticated and tasteful, relevant and highly attuned to the needs of its well-heeled market, as they were more than two decades ago. And this is aptly reflected on Rockwell Center's current land values and leasing rates.
Data from Colliers International Philippines showed that Rockwell Center commands one of the highest average leasing rates for a three-bedroom luxury unit at P744 per sqm to P1,042 per sqm as of the fourth quarter of 2018. Capital values continue to increase as well with the average prices of prime three-bedroom units in the secondary market ranging from P222,000 per sqm to P267,000 per sqm.
And these values are poised to continue its bullish run with an estimated year-on-year increase of 4.6 percent for 2019, according to data from Colliers.
And this really comes as no surprise considering the impressive display of design and architectural prowess across all structures within the Rockwell Center. Case in point would be The Proscenium,  a 3.6-ha enclave that has started to deliver a new, refined standard of living for its residents since late last year.
Units at the 55-storey Kirov and the 50-storey Sakura—two of the five residential towers at The Proscenium—were turned over in October last year, giving residents a taste of Rockwell Land's greatest creation yet.
Kirov evoked more of the traditional European vibe in the generous expanse of its lobby, while Japanese influences created a different ambience for the lobby of Sakura. And while each tower is unique in character, Kirov and Sakura are similar, as with the three other towers (Lorraine, Lincoln and The Proscenium Residences)  in terms of offering a new standard of living in an urban space.
The Proscenium, as a complex, exudes artistic sophistication while providing a hectare-expanse of topnotch amenities that include pools, a jogging path, outdoor courts and gyms; the Performing Arts Theater that will be the proud venue of musicals, plays, operas and orchestra performances; an expansive retail center featuring a well curated selection of shopping and dining options.
Residents will, no doubt, live in the vibrance offered by The Proscenium, giving Makati City another reason to remain the most enviable and most sought address in the country today.
LOOK: Exquisite Design Elements from Around the World Converge at Rockwell's Most Luxurious Property Yet
Posted on Friday, May 24th, 2019
Piercing through the Makati skyline are stark white sails situated in the lofty neighborhood of Rockwell Center. Those architectural protrusions belong to Proscenium at Rockwell, a 3.6-hectare enclave identified as Rockwell's most coveted and talked about address to date. The residential property consists of five towers, each telling a story of fine art and architecture, dedicated to the homeowner who appreciates art. As the Sakura and Kirov towers have already been turned over, we take you on a virtual tour around their dedicated spaces, as well as of the towers Lincoln, Lorraine, and The Proscenium Residences:
The Exteriors: Award-winning Canada-based architect Carlos Ott helmed the project driven by a vision to create an extraordinary community. He thought of incorporating Proscenium's signature "sails" onto the residential towers. On the outside, the glossy structures may look identical, but inside, each tower transports its residents to a welcoming space. Based on Ott's concept, the towers' names are inspired by iconic theaters from around the world.
The Interiors: The timeless interiors boast of the signature touch of United States-based Filipino interior designer Butch Valdez. Fit for a well-traveled resident, the interiors are styled with a collection of fine art, precious antiques, and well-crafted furniture sourced both locally and internationally.
SAKURA TOWER
Recently turned over, the 50-story Sakura tower is marked by Japanese influence.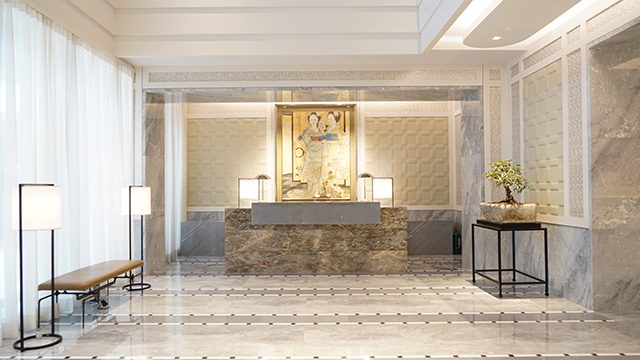 Japanese elements dot the common spaces. Bonsai trees housed in antique stone plant holders, the framed Japanese monk's robes in the hallway, and the traditional Japanese artwork that hangs in the reception area all catch the eye.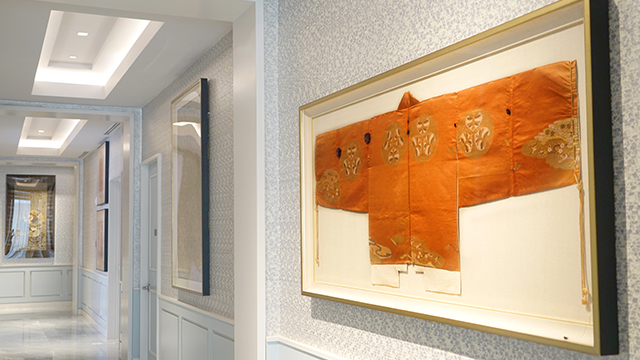 The tasteful flooring features four kinds of marble, subdued by the muted blues and grays on the walls.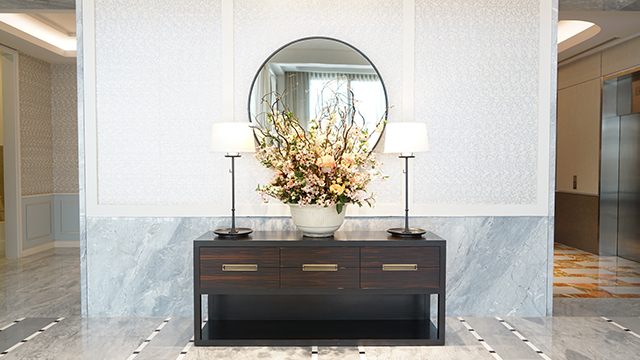 The function room, which can comfortably accommodate 65 guests, features wallpaper flown in from the U.S. and made from capiz shells.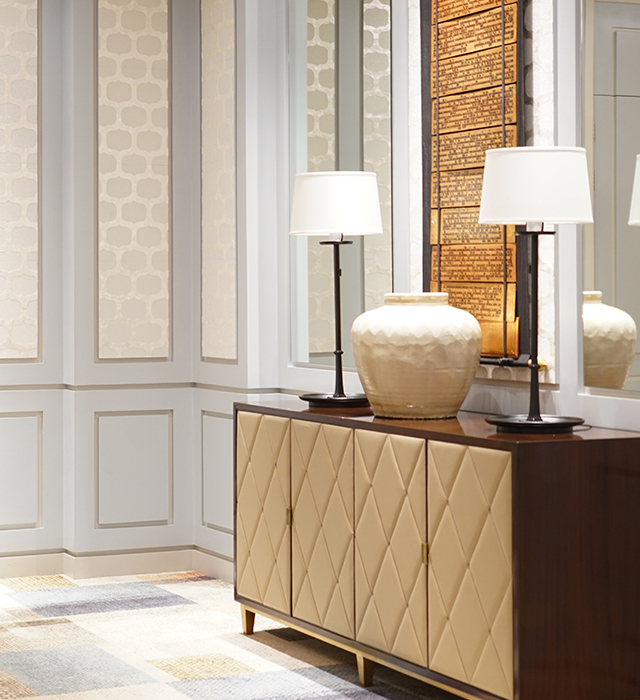 The serene library is a space for leisurely reading and working. It's characterized by a matching set of Chinese antique tables and traditional Japanese Noguchi lamps.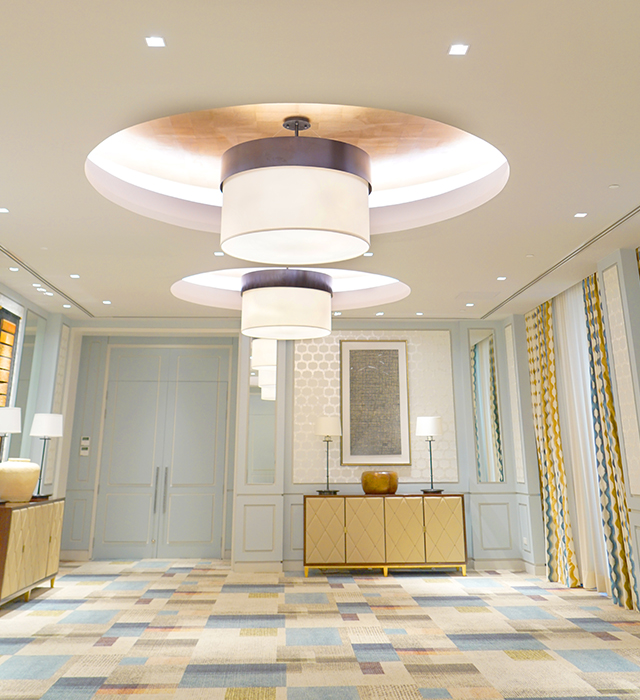 KIROV TOWER
Next door, the Kirov tower takes its name from the world-famous Mariinsky Theatre—once known as the Kirov Theatre—in Saint Petersburg, Russia, where people from all over the world gather to watch operas and ballets.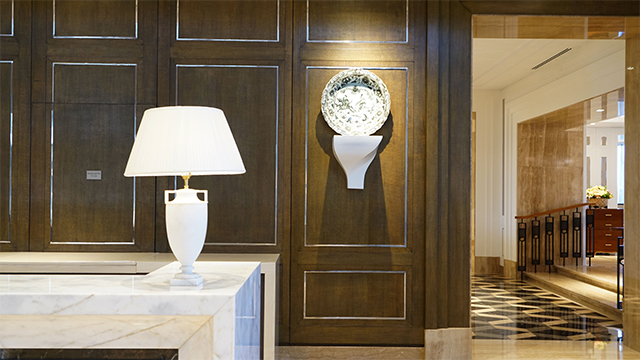 That said, the interiors of the 55-story Kirov tower take cues from design elements associated with European culture.
The palette is decidedly warmer than Sakura's, making use of brown marble from Italy for the flooring, sleek wooden panels on the walls, and a comfortable pair of lounge chairs clad in Hermès fabric.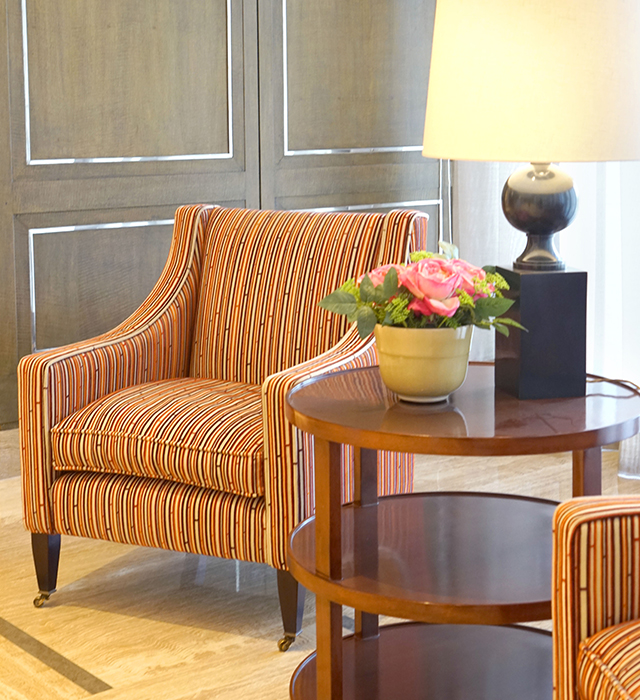 Mexican antique plates from Guadalajara act as an accent in the reception area.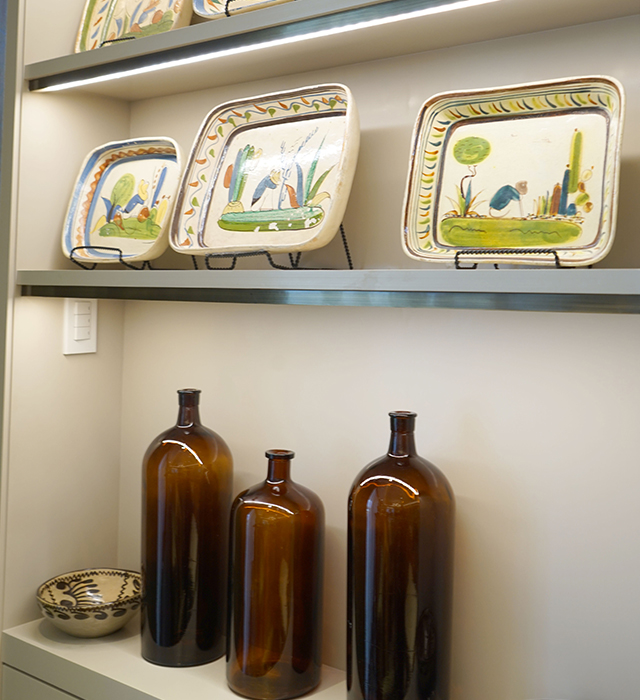 Despite the European theme, a few Asian details shine through, like the pattern on the drapes in the 20-seater private dining room.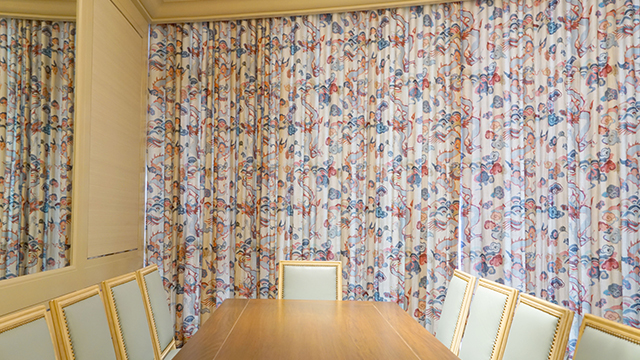 LINCOLN TOWER
The Lincoln tower is named after the historic Lincoln Center in New York, which is home to the prestigious company the American Ballet Theatre.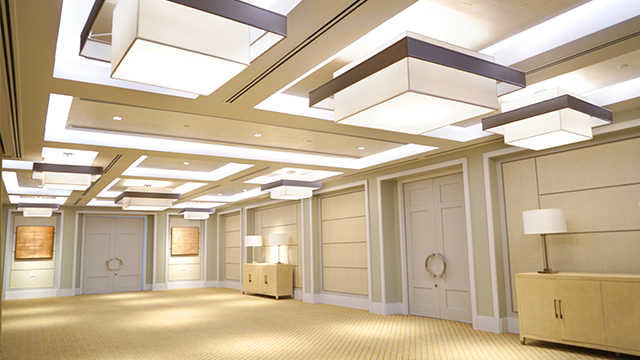 The tower takes a more contemporary approach, as it was inspired by a newer theater built in the 1950s. This is seen in the choice of art and artifacts displayed in the common spaces.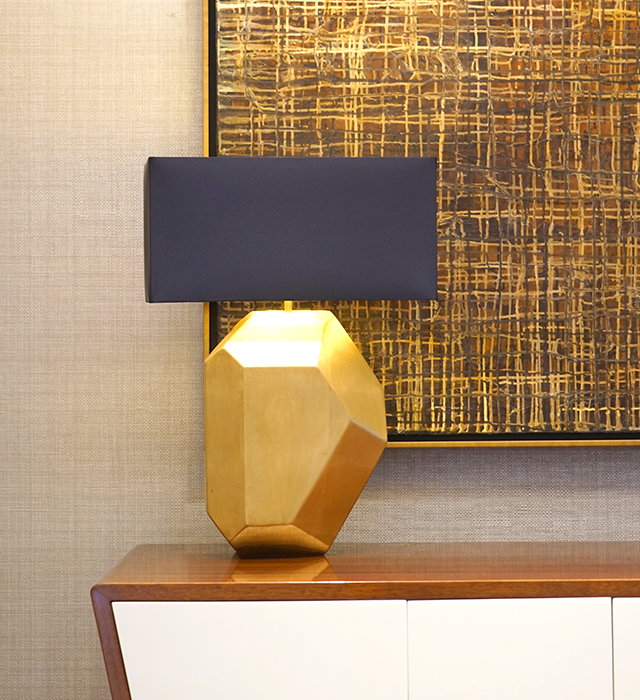 The white spaces and bright lighting add to the elegance of the lobby, which uses heavy gold accents on the pillars and the fixtures.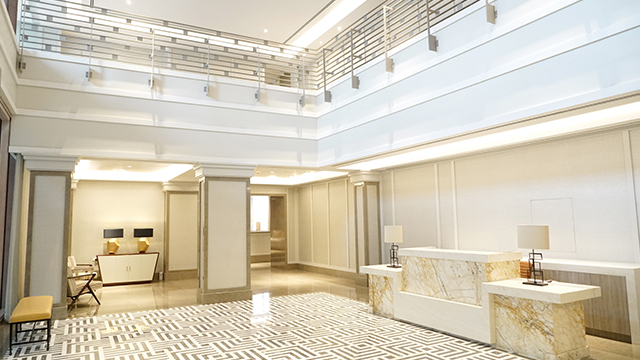 The function room is also well-lit and features a palette of neutrals and clean geometric lines.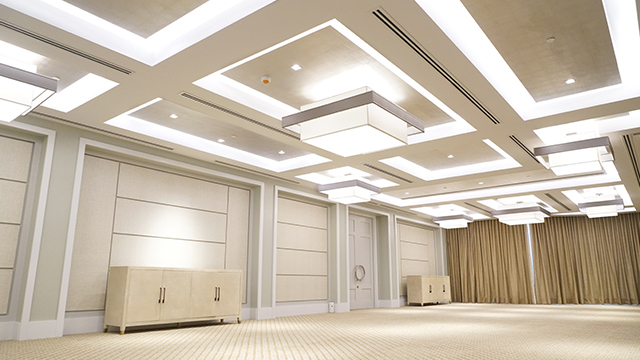 Each function room comes with a dedicated pantry for event preparations.
The lounge is brought to life by carpets inspired by Native American art.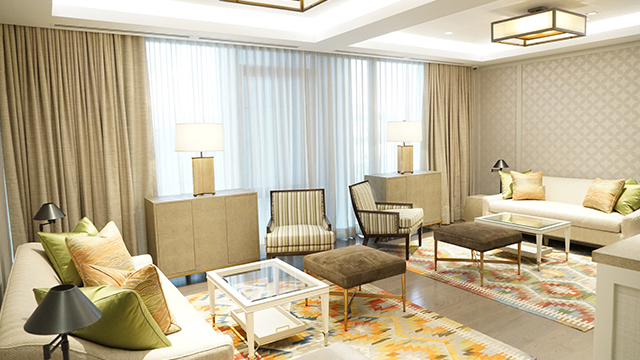 These, along with silky green and orange throws, instantly brighten up the space characterized by solid colors.
LORRAINE TOWER
The Lorraine tower features a more whimsical vibe.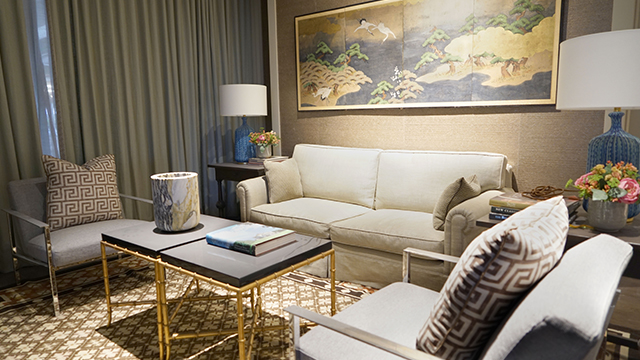 The design intent was to marry color with gold elements.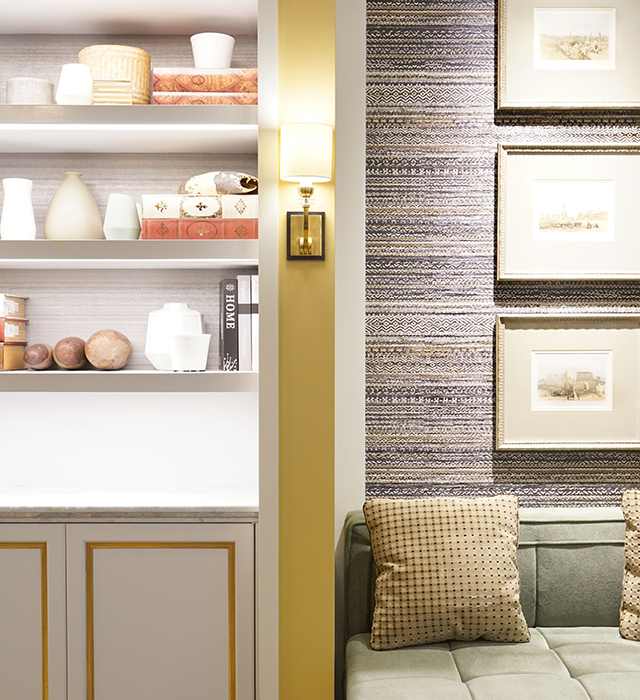 The tall sliding doors that lead to the lounge give an Old World air.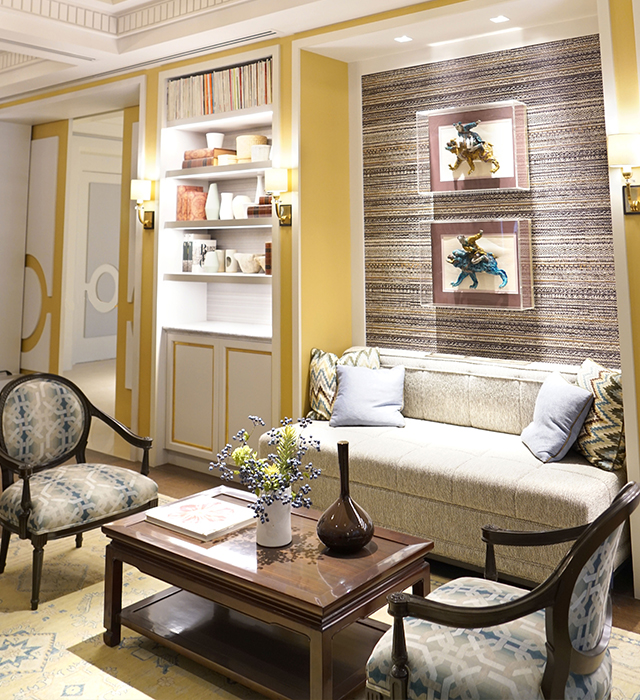 The cushioned bergère-style chairs and golden uplight chandeliers lend the library its needed European touch.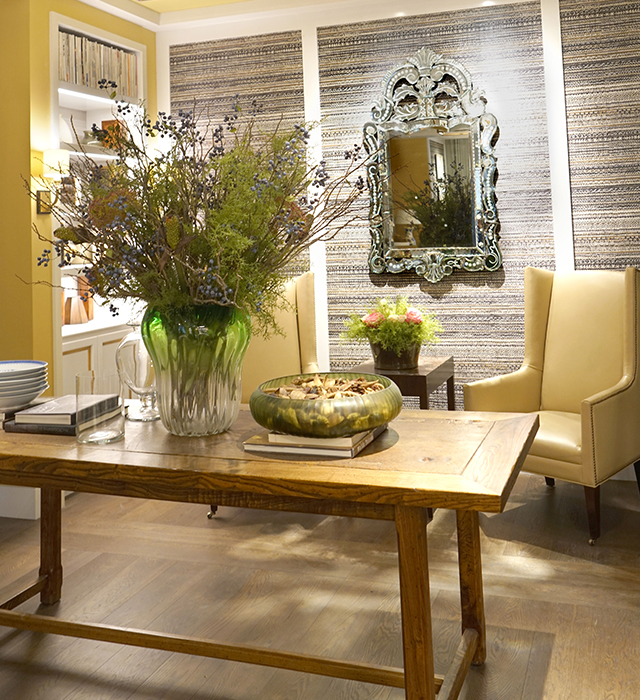 The Proscenium Residences: A 59-story, three-pronged structure set to tower over the rest, the Proscenium Residences will flaunt its stately sails, evidencing the community's value for culture and dynamism.
The Amenities: Within walking distance from the residential community is Proscenium's soon-to-rise performing arts theater. Meanwhile, guests may soon enjoy the Amenity Deck, which links each tower's fifth-floor lobbies. Almost a hectare in size, the deck is equipped with three main pools, including a child-friendly one. Another exciting development is a multi-purpose indoor court, where residents can play tennis or basketball. Each tower is also equipped with its own fitness center, which offers guests ways to engage the body as the other spaces in the community stimulate the mind and soothe the spirit.
To know more about how Proscenium at Rockwell is redefining the Makati skyline, visit Prosceniumatrockwell.com or the Rockwell Land CorporationFacebook page.
When in Rockwell: Here's What You Can Do to Celebrate the New Year
Posted on Friday, May 24th, 2019
We can all agree that the holiday season in the Philippines extends long after Christmas day itself, just as well as we know that it starts months prior. There is plenty to enjoy after all-including the relatively decongested city streets and the lively post-holiday glow that pervades our malls and parks.
One such place you can still feel the holiday spirit is the self-sustained community in Rockwell Center, which hosts a lot of activities and events that continue through the start of 2019. Here are a couple of reasons to spend time at Rockwell now:
The chance to win a Land Rover or a Jaguar.
Shopping at Power Plant Mall, Santolan Town Plaza, or The Grove until January 31, 2019 can get you into Rockwell's Christmas Car Raffle, through which Rockwell Elite VIPs can win a Land Rover Discovery Sport S or a Jaguar F-PACE. And if the winner of this raffle happens to be present at the draw on February 1, they'll also get a P50,000 shopping spree.
The incredible post-holiday spectacle.
Grand installations and decor are a Rockwell tradition that brings joy to the mall patrons, and this year's no different. Power Plant Mall is the perfect place to unwind and still feel the holiday spirit. If it's not enough to peep the multi-story Christmas tree, walk through the singing animals, beautiful garlands and poinsettias, and peppermint-scented walkways.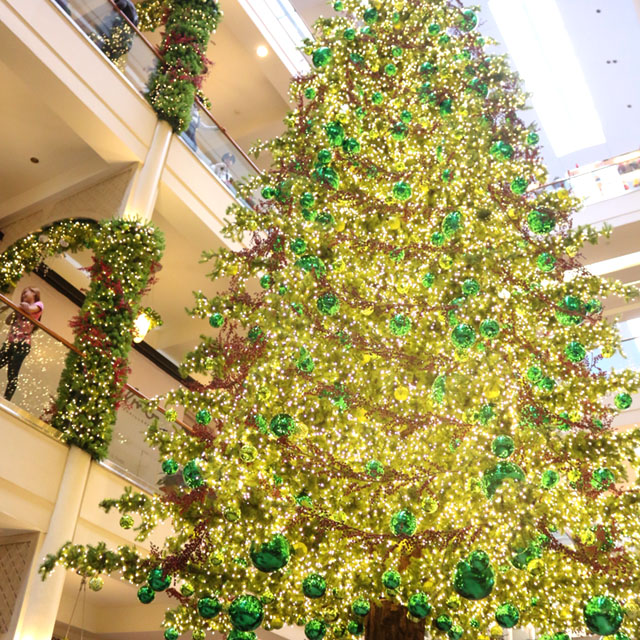 The Toy Factory, which is perfect for your godchildren.
Admit it: there's that one godchild you missed last Christmas. But rather than letting the opportunity pass, you can take the little tyke to Santa's Toy Factory at the R1 level of Power Plant instead, where loads of toys and activities can be found. Afterward, you can enjoy a family dinner at The Grid or Mary Grace Cafe.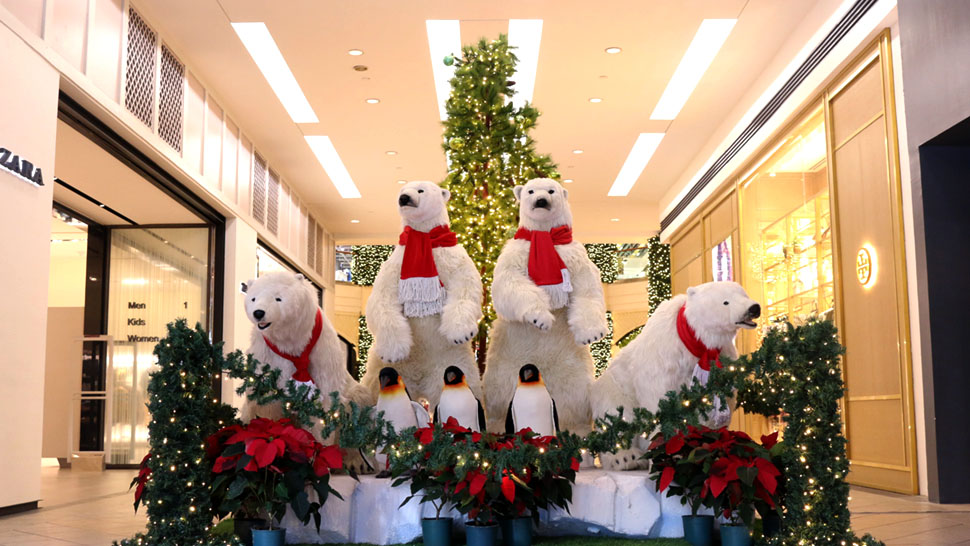 Rockwell Center, which includes everything from Power Plant to 8 Rockwell and One Rockwell, has always been a great place to shop or de-stress while appreciating the sense of community and wonderful decorations, more so during the downtime season.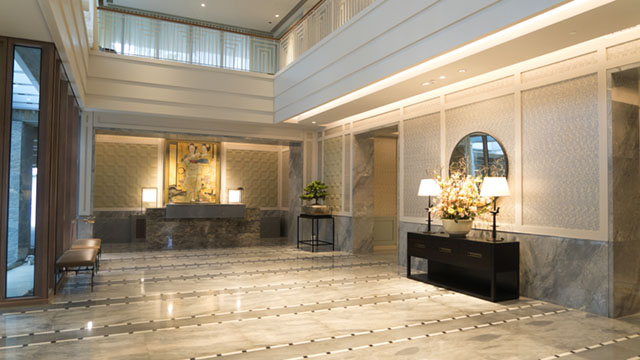 It's part of why living in Rockwell Center is so great. Offering the most exclusive residence and poised to be the greatest Rockwell yet, Proscenium at Rockwell elevates the standard of living for its residents in its first two towers (Sakura and Kirov). With elegant finishes and a complete set of amenities per tower-including the expansive lobby, private dining area, tasteful meeting rooms, and a welcoming library-you can experience and enjoy the Rockwell lifestyle all year round.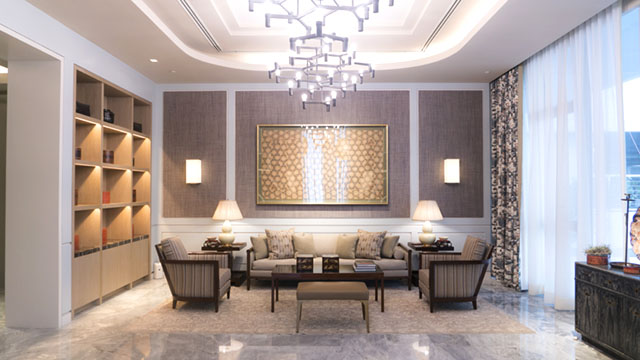 For more information about the Rockwell life, visit The Rockwellist. To know more about the Proscenium, visit its official Facebook page and official website.
Beachside living beyond ordinary
Posted on Friday, May 24th, 2019
One of the reasons why people keep coming back to Cebu is because of its stunning natural wonders: the gorgeous landscapes, white sand beaches and expansive resorts.
Arriving on Mactan's sunny shores is Rockwell Land's second foray in the Queen City of the South, Aruga Resort and Residences-Mactan. Located along the famed Punta Engaño, this alluring 4.7-ha sanctuary will feature exquisite beachfront villas, residential spaces, and beautiful hotel rooms, all while bringing the signature Rockwell lifestyle to the quiet side of Cebu.
And since its launch last August, this prime residential-resort development has already sold nearly half of its residential units.
"With its unique property layout and design and an expansive 200-meter beachfront, the project is set to elevate the Mactan leisure and lifestyle experience," said Christopher Gecha, Rockwell Land assistant vice president and Cebu project development head.
Rockwell is investing some P6.2 billion for its latest masterpiece, where future guests and residents will find the ultimate rest and relaxation while waking up to pristine ocean views and enjoying unparalleled exclusivity.
"Rockwell's move to Mactan will undisputedly change the landscape of the shores for the better, bringing with it its expertise in comfort and leisure, with the luxurious lifestyle that Cebuano locals and guests will both experience. A mix of residential and hotel towers, Aruga, which is strategically facing Hilutungaan channel with its long beachfront, will be a pristine and undisputed star. Guests and locals will feel as if they have the beach all to themselves, and will have breathtaking, panoramic views of Cebu that no one has ever seen before," Gecha claimed.
As a developer, Rockwell continuously pushes the envelope, further raising the bar with its bold expansion in Mactan, while offering unmatched innovation and unparalleled quality—something that the company has always been known for.
After launching its first low- to mid-rise exclusive community in Lahug, 32 Sanson by Rockwell, this is yet another milestone for Rockwell Land in the Queen City of the South.
5 Things That Make Vacation Homes More Elegant and Sophisticated
Posted on Monday, January 21st, 2019
These little details will help you create your own slice of heaven, just in time for the holidays.
Work and social engagements may be invigorating, but sometimes, you just find yourself longing to escape from the city for the beach and simply be. A vacation home is built for that purpose, since you don't have to make major adjustments to your routine as you take a break. But what makes a coastal vacation home, exactly? Below, interior design tips to get you started on your beachfront living.
1. Consider the location.
Living by the beach can elicit calm and a sense of peace, and both areintegral to a private space where you'll be retreating and recharging many times a year. The right location also contributes to the design of your vacation home, since it provides the inspiration for how your interiors will look like. For a beachfront property, modern coastal design works best: think distressed wood, earthy and nautical elements, and relaxing open spaces.
2. Choose a muted color palette.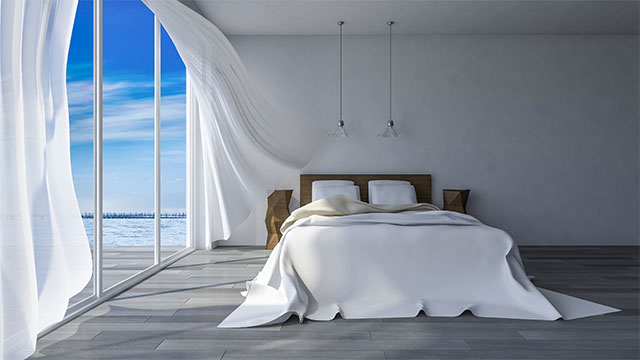 One of the simplest ways to feel like you're on vacation as soon as you setfoot into your beach home is by designing your interiors with soft, muted tones. A sandy tan or a soft gray is easy on the eyes and can make you feel relaxed as soon as you see it. For accents, veer away from bold pops of color as this can jolt you right out of your calm state—keep to the muted colors with pastel hues like aquamarine or coral.
3. Create wide and relaxing spaces.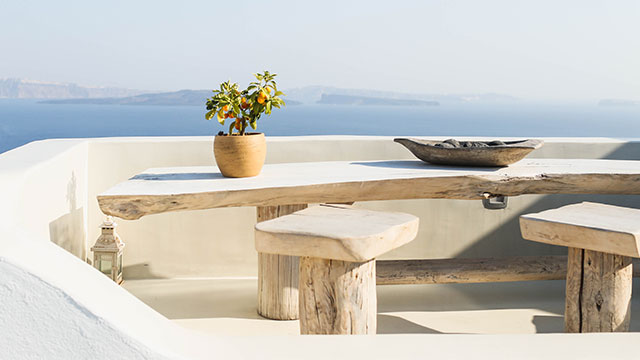 Design your personal space with your overall comfort and well-being in mind. Instead of filling up a room with furniture and decor, allow negative space to thrive in it. Since you'll be following a less-is-more approach, choose only the right furniture that fits the all-around aesthetic of your vacation home. For example, a sturdy rope or rattan hammock by the balcony or a reading nook by the bayside window are some coastal-themed details that help calm the mind but still offer opportunities for stimulation and creativity.
4. Layer pieces with different textures.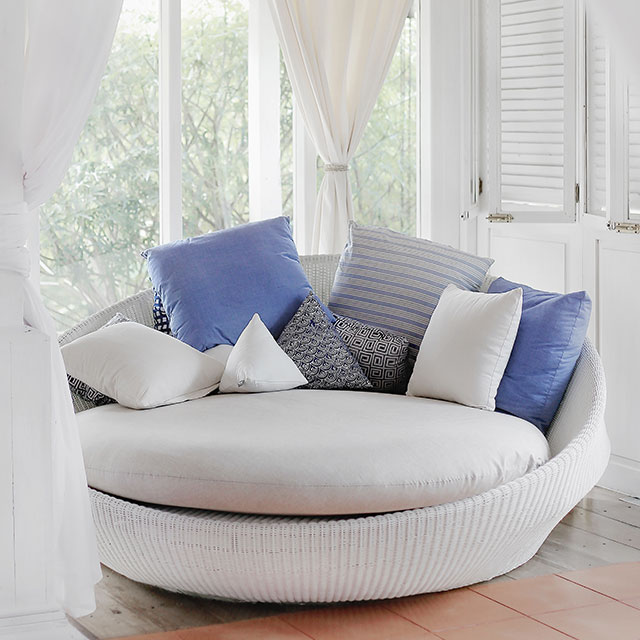 Play with textures that remind you of being at the beach. Imagine sinking your toes into the sand, tracing water-carved rocks, or feeling the waves crash at your feet—try to recreate these tactile experiences with the kind of furniture or decor you use, or at least choose pieces where the texture is visually obvious: woven fabrics, planks of wood, and even potted plants. Lastly, as a vacation home is designed for maximum comfort, add plush cushions, pillows, and throws to your sofa for a cozier, lived-in feel.
5. Add a touch of grandeur.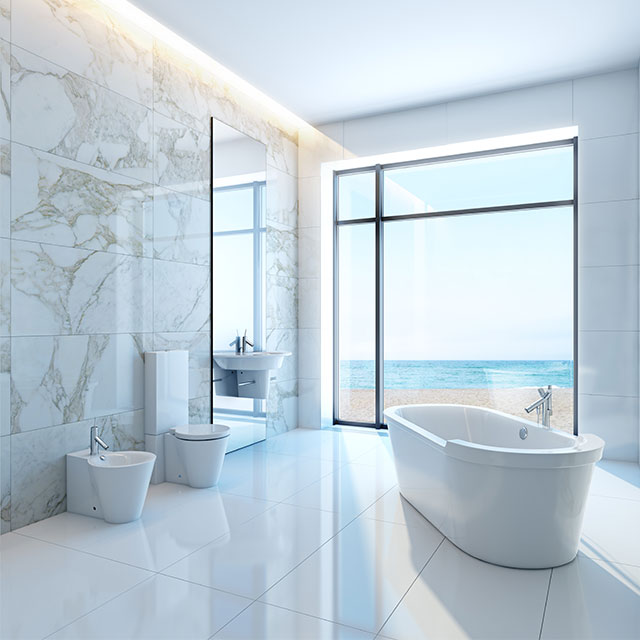 What's a vacation home without feeling the least bit glamorous during your stay? Make your beachfront home feel like a grand escape by going for marble or granite countertops, real wood accents on the ceiling or sofa, and metal finishes on decor and lighting. For your bedroom, choose plush sheets and beddings with an impressive thread count; for your bathroom, opt for a free-standing bathtub that's overlooking the ocean for ultimate relaxation.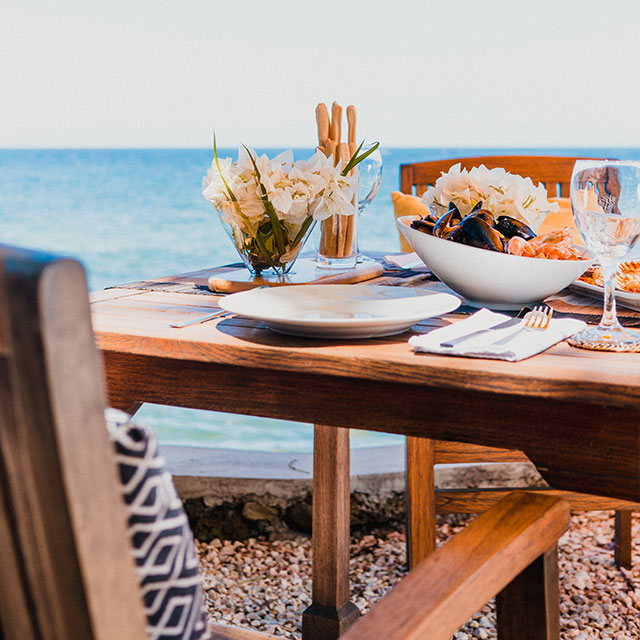 Stock your bar with your favorite premium liquor, and unwind after each indulgent day with your favorite drink and the gorgeous sunset before you. Whip up a delicious dinner—better yet, hire a personal chef on your getaway to whet your appetite with dishes made from locally sourced ingredients.
Whether your vacation home is just for yourself or for the entire family, choose a community where every lifestyle is catered to and exudes luxurious living, like Aruga Resort and Residences – Mactan. Nestled on a stretch of private white beach, this residential resort community offers one-bedroom to four-bedroom units to accommodate all types of vacation seekers and includes exclusive amenities for residents and guests. Aruga Resort and Residences – Mactan is Rockwell's first premiere residential-resort development located in Mactan Island, Cebu.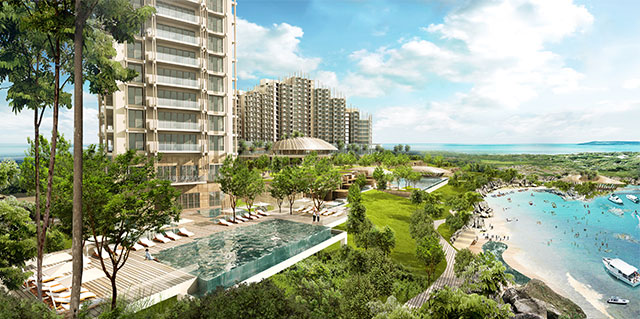 Source: https://www.townandcountry.ph/homes/property/5-things-vacation-homes-elegant-sophisticated-rockwell-adv-con
Rockwell registers brisk sales in Cebu
Posted on Monday, January 21st, 2019
Upscale developer Rockwell Land Corp. has gained ground in Cebu a few years after diversifying out of Metro Manila, with its first two residential projects—one condominium enclave in the city center and one beachfront estate in Mactan—posting brisk sales.
For the beachfront residential condominium that will rise as part of a 5.3-hectare Aruga Resort and Residences in Punta Engaño, the first 100 units are selling for P250,000 to as much as P370,000 per square meter or comparable to some of the upscale condominium developments in Metro Manila.
To date, Rockwell Land has sold half of the 200 residential condominium units in the future Aruga Residences about a month ago, Cebu-based sales manager Katrina Kho said in a recent press briefing.
The residential complex will have its own pool and other amenities that are distinct from the future Aruga Hotel, which will have 250 to 300 guest rooms.
Rockwell Land is also looking to sell a limited number of "condotel" units with time-sharing arrangements.
Because Punta Engaño is a narrow strip of land, all units have a view of the sea from either side, Kho said, adding that the estate will have one of the longest beachfronts in this part of Mactan.
"The buyers are mostly from Manila and Cebu, mostly Filipinos, businessmen and from the high-end market here in Cebu," Kho said.
For the Cebuano buyers, the buyers mostly intend to use them for a second home for their weekend getaways.
"Before, we just have the public beaches but they are slowly turning into bigger developments. So it's for weekend getaways, plus it's near the city," she said.
A 67-square-meter one-bedroom unit costs P16 to P18 million while a two-bedroom 101-sqm unit costs P35 to P38 million.
The three-bedroom units, sized at around 161 sqm, cost about P50 million to P55 million.
The residential units are targeted to be turned over to buyers by 2022, while the Aruga hotel-resort will be operational by 2023, Kho said.
Rockwell has also reported strong demand for its first residential project in Cebu, 32 Sanson, which now has a thriving community as the first two towers—Raffia and Gmelina—have been sold out and turned over to buyers.
Located in Lahug at the center of the business district, the 3.2-hectare residential cluster offers low- to mid-rise units surrounded by sprawling gardens.
About 70 percent of the estate consists of landscaped space.
For the remaining two towers, Buri is 94 percent sold and Solihiya is 43 percent sold. These are expected to be completed by 2019 and 2020, respectively.
The remaining units in 32 Sanson are now selling for P155 to P170 per square meter compared to P120,000-P130,000 per square meters when Rockwell started preselling the first towers in 2014.
By: Doris Dumlao-Abadilla – Reporter / @philbizwatcher
Source: https://business.inquirer.net/257958/rockwell-registers-brisk-sales-cebu#ixzz5dDH94DsW
Rockwell launches P6.2-billion luxury resort in Mactan
Posted on Monday, January 21st, 2019
Rockwell Land Corporation, the high-end property development arm of the Lopez Group, is expanding its unique brand in Cebu with the launch of its first resort project, the highly anticipated P6.2-billion Aruga Resort and Residences-Mactan, Cebu.
In an interview, Rockwell Assistant Vice President and Cebu Project Development Head Christopher Gecha said half of the project's 200 residential units have immediately been sold after its launch last month.
Rockwell's first residential-resort development is located on a 4.7 hectare property along Punta Engaño with an expansive 200 meter beachfront.
The low density luxury development will comprise just 200 residential units as well as exquisite villas and a hotel tower. Rockwell said its most ambitious project yet is set to elevate the Mactan leisure and lifestyle experience.
Gecha said the residential component of the project consists of one-bedroom units with a total area of 67 square meters, 2-bedroom units with 101 square meters each, and 3-bedroom units with 161 square meters each.
He said most of their buyers are Cebuanos although buyers from Metro Manila are fast catching up and now comprise almost half of those who have reserved units.
Meanwhile, Gecha said they have also sold 45 percent of the fourth tower of their first foray in Cebu, the P4 billion 32 Sanson by Rockwell in Lahug.
In 2014, the low density mid-rise project 32 Sanson launched its first two towers, Gmelina and Raffia.
With the market's positive reception of the Rockwell brand in Cebu, these two towers, which have sold out and been turned over last 2016, have residents and investors comprising Rockwell's first growing community in Cebu.
This was followed by the launch of the property's third tower, Buri, with a few units remaining, and will be turning over in 2019.
With last year's launch of the fourth tower, Solihiya, still receiving positive feedback, and the launch of
Aruga Resort and Residences-Mactan, Cebu this year, Rockwell looks forward to the continued success of the beginning of penetration in the provincial market while it remains on the move.
Gecha said they already have the fifth and last tower of the project on the drawing board and should launch it within two years.
Meanwhile, he said they continue to scout for sizeable properties to develop in Cebu as they continue to be bullish about prospects of the local economy.
By James A.Loyola
Source: https://business.mb.com.ph/2018/09/16/rockwell-launches-p6-2-billion-luxury-resort-in-mactan/
Rockwell sells half of P6.2-B Aruga Mactan, Cebu, residential project
Posted on Monday, January 21st, 2019
ROCKWELL Land Corp., the property development arm of the Lopez Group, said it has already sold half its residential units in Aruga Resort and Residences in Mactan, Cebu, where most of the country's top resort developers are clustering to create a destination.
Christopher Gecha, the company's assistant vice president and Cebu project development head, said its P6.2-billion project generated a lot of interest among the buyers just a month after its launch in August.
The project has 200 upscale residential units and 250 hotel rooms, which also include units for sale.
Rockwell's first residential-resort development is located on a 4.7-hectare property along Punta Engaño.
"With its unique property layout and design and an expansive 200-meter beachfront, the project is set to elevate the Mactan leisure and lifestyle experience," the company said.
Gecha said the residential component of the project consists of one-bedroom units with a total area of 67 square meters (sq m), two-bedroom units with 101 sq m each and three-bedroom units with 161 sq m each.
He said most of their buyers are Cebuanos, although buyers from Metro Manila are catching up and now comprise almost half of those who have reserved units.
The Lopez property is among those with larger frontage facing the ocean, alongside with the development of Andrew Tan, the Gokongweis and the Gotianun groups and also Dennis Uy's resort and casino development. Most of the area, however, have no beach, so developers are creating an artificial beach, by importing sand from somewhere else and piling this within their respective property.
Gecha said they have also sold 45 percent of the fourth tower of their first foray in Cebu, the P4-billion property at 32 Sanson by Rockwell in Lahug.
In 2014 the low-density, midrise project 32 Sanson launched its first two towers, Gmelina and Raffia.
With the market's positive reception of the Rockwell brand in Cebu, these two towers, which have sold out and been turned over in 2016, have residents and investors comprising Rockwell's first growing community in Cebu.
The company recently launched its third tower, called Buri, with a few units remaining, and will be turned over to its owners by 2019.
Last year it launched the fourth tower, named Solihiya, and is still receiving positive feedback, it said.
Gecha said the company will launch its fifth building, the last in the complex, within the next two years.
He said Rockwell is scouting for sizable properties to develop in Cebu as they continue to be bullish about the prospects of the local economy.
By VG Cabuag
Source: https://businessmirror.com.ph/rockwell-sells-half-of-p6-2-b-aruga-mactan-cebu-residential-project/
'Masters' on the move
Posted on Thursday, August 2nd, 2018
It's an understatement to say that upscale developer Rockwell Land is primed and well poised to expand its reach.
For over two decades, it has proven to be well-versed in the art of building self-sufficient communities with well-curated offerings, all designed to create that distinct modern lifestyle. It has mastered the creation of communities that are now landmarks and masterpieces that redefined the city landscape.
In short, Rockwell got the perfect blueprint down pat.
And it's the same blueprint that the company intends to bring to new areas outside Metro Manila, as it seeks to further expand its portfolio and reach. Rockwell Land, today, is definitely on the move to achieve beyond ordinary feats.
Rockwell's expansion actually began in 2008, after surviving its bleakest moments in the late '90s and following the success of its first project, the Rockwell Center in Makati City. However, it is only over the last several years that Rockwell Land seemed to have gotten more aggressive as it seeks to tap the growing opportunities outside Makati and the metro.
"We started our expansion in 2008, and have been actively looking into expanding in various areas. Over the years, Rockwell has gained experience and established its brand, both in and beyond residential condominiums," said Rockwell Land senior vice president for business development Davy Tan.
"It is with this experience in these different formats that we've felt ready to duplicate these types of products, and take them to other areas. Also because of the current market. The per capita is above $3,000 and the purchasing power or consumption power of Filipinos has increased. We know that a third of the budget of an average Filipino household is dedicated to real estate," he said.
Late last month, Rockwell Land disclosed that it plans to ramp up landbanking activities, which will require about P5 billion worth of land acquisitions for this year alone.
Tan declined to cite specific areas but disclosed that, based on certain factors, they are looking at some provinces in the north and south of Metro Manila. The metro, he added, remains a good location for their growth, too.
"We look into wealth creation, consumer consumption and infrastructure in the different areas. We will always keep key metro areas and highly urbanized cities in mind, but we are also looking into provinces and areas in the north and south of the Metro," Tan explained, adding that they also consider the economic activities and growing industries in the area.
The target is to "duplicate the Rockwell Center community outside Metro Manila."
"The types of products are still going to be residential, office, retail and resort. We will explore both mixed use communities and stand alone communities, depending on what the areas call for," Tan added.
Rockwell earlier announced that it would be launching by the third quarter this year a P6.2 billion project in Mactan, Cebu. Located in Punta Engaño, the 5.3-ha property by Rockwell will have over 200 residential units and a hotel that will serve the growing tourism industry.
The upscale developer likewise announced the launch of the second tower of The Arton. This P15.6-billion three-tower project, being developed jointly by Rockwell and Japan's Mitsui Fudosan Inc., is a high rise development in Quezon City that is targeted for completion by 2023.
By: Amy R. Remo – Reporter / @amyremoINQ
Read more: http://business.inquirer.net/252550/masters-on-the-move#ixzz5N0MYrx7l
Developer goes full throttle
Posted on Thursday, August 2nd, 2018
Rockwell Land's aggressive expansion is happening at a most opportune time.
While the upscale developer has remained, for the most part of its 23 years, largely cautious in its development plans, it can now boldly lay claim to a well earned right to bring its signature lifestyle and spaces to areas where they are sought by the country's most affluent.
This is why Rockwell Land is now on the move. And its expansion has gone full throttle.
Replicating its success
After creating modern, exceptional and sustainable communities well beyond their time, Rockwell Land is going out of its comfort zone to replicate its highly successful Rockwell Center in Makati City not only in other cities in the metro, but in other regions as well.
"We've expanded geographically through the years with our different business units namely residential, commercial, retail and hotel and leisure. From creating our first masterplanned community in Rockwell Center, Makati City, we've gone further to bring the Rockwell lifestyle to other parts of the metro: Pasig, Quezon City, San Juan, (as well as in) Cebu and even in the province of Batangas," explained Tracey Castillo, assistant vice president for marketing at Rockwell Land.
Apart from its signature living spaces, Rockwell also provided commercial spaces for the working community, and brought its unparalleled homegrown service by entering the hotel and leisure industry through Aruga by Rockwell.
And, through its wholly owned subsidiaries Rockwell Primaries and Stonewell, the company has likewise given more Filipinos the opportunity to experience the famed Rockwell lifestyle, which made its developments the most sought, most enviable addresses to date.
From a former site of a decommissioned power plant, Rockwell Center in Makati is now one of the most premium developments in the country.
Right timing
Castillo believes that the timing is just right and that the company is well poised to take on its current expansion.
"We feel that the Philippines as a country is booming and that the increase in wealth is happening everywhere. The growth of areas in urbanized cities and (the rise of) next wave cities outside of Metro Manila provide us with an opportunity to explore new markets and products for Rockwell," Castillo explained.
"With Rockwell on the move, expect to see Rockwell introducing new products and entering new markets in the coming years. There are some projects that we are currently working on in the north and south of Metro Manila but we cannot disclose the details at this time. We are also bullish on tourism as a growth driver and Cebu in particular with the expansion of the Mactan airport," she added.
Cebu, in particular, was a choice location for Rockwell.
According to Castillo, it was a natural move for the company to make its first regional development in Cebu as the Queen City of the South has long been in the radar of many foreign tourists and investors, and even the locals, given its booming economy, exciting infrastructure plans, rapidly developing cityscape and natural wonders.
"The promising growth of the bustling city is definitely an opportunity for Rockwell to grow with, as well as to allow Cebuanos to experience the Rockwell lifestyle," she added.
Castillo was quick to note that as the company expands its reach outside Makati City, it also strives to develop new products that can specifically cater to a market's demands and gaps, knowing all too well that each area is unique.
Cebuano flair
In the case of its expansion in Cebu for instance, Rockwell ensured that its first foray in the Queen City of the South will have the Cebuano touch and flair.
It is thus not surprising to hear of the Cebuanos' warm reception of 32 Sanson by Rockwell, a development set amid a sprawling 3.2-hectare lot that is now touted as Cebu's most exclusive garden community.
"The city is full of culture and a hub for artisan design, and we wanted to incorporate that into our property along with the signature Rockwell lifestyle," Castillo noted.
"Working with local firm Gallego Architects, we made sure to give a Cebuano touch to this development adding to its rustic charm. Our shared value for space is exactly one of the things most appreciated by the market—a 70 percent-to-30 percent landscape to building ratio, with open spaces dedicated to amenities and lush landscapes; low to mid rise buildings at five to eight floors making for a low density community; and above average ceiling heights standing at 3 m tall," she said.
Castillo even related that upon completion of the first two towers, the reception was "heartwarming with appreciation for the little details found in the finishes of units, service of the property management, and how they all come together to evoke an overall tastefully relaxed resort ambiance."
A first for Rockwell
The overarching success of 32 Sanson may be a tough act to follow, but Rockwell is just getting started. This time, it is bringing its distinct mark of prestige, prominence and respect to Mactan, a prime tourist destination revered globally.
"Cebu remains known for its beautiful resorts and growing tourism. Being one of the major tourist islands of Cebu, Mactan boasts of some of the best diving, island hopping, sailing and cultural activities of any island in the country. Rockwell will be adding more to Mactan with our newest development this year—a first product type for us," Castillo disclosed.
"Entering into a new product offering and new market, this will hopefully help maintain our footprint as the preferred developer for premium living spaces, and in an alternate major metropolis with booming tourism no less," she added.
The Rockwell official declined to provide more details, but there is no doubt that another masterpiece is on its way.
"Rockwell will continue to provide that premium lifestyle to the discerning few through our new projects like in Mactan and give them new services and experiences through the unique products that we will create," Castillo concluded.
By: Amy R. Remo – Reporter / @amyremoINQ
Read more: https://business.inquirer.net/249193/developer-goes-full-throttle#ixzz5N0BAMqdH